Colleen Murphy
Senior Associate Director, Undergraduate Career Services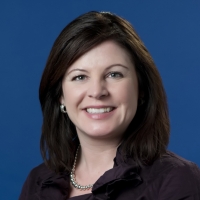 Colleen Murphy is our Senior Associate Director, Undergraduate Career Services and Dedicated Career Advisor for the Sustainability, Management, Health and Industry majors and Bachelor of Arts students. Murphy has worked in higher education for more than 14 years. As the Freshmen Career Advisor and Advisor to First Time Visitors, she introduces students to the Bentley University Hire Education Career Action Plan (a four-stage career plan) and also presents career-related programs, conducts outreach to a variety of industries and is a facilitator for the First Year Seminar and Career Development Courses.
In June of 2012, Murphy was appointed as the Ferrera Fellowship Coordinator for the Gerald R. Ferrera Public Service Fellowship (established in June of 2012) that was created to offer Bentley students an opportunity to work for an international NGO, non-profit or government agency.
Before coming to work at Bentley University, Murphy worked as an Assistant Director of the Suffolk University Law School's Career Development Office and Admissions Office. After completing her education, she worked for several years in the international shipping industry including the Ocean Brokerage Department of a large Japanese company and later an American company where she imported goods for a national account.
Murphy holds a Master's in Education, with a concentration in Administration of Higher Education and an undergraduate degree in Psychology from Suffolk University. She is a member of the Chicago Women in Publishing and the West End Civic Association.
Dedicated Career Adviser for:
• Liberal Studies Majors (except Media, Arts & Society)
• Global Studies
• History
• Liberal Arts
• Philosophy
• Pre-Law (Minor)
• Professional Sales
• Public Policy
• Spanish Studies
• Sustainability Science
• Non-Profit Organizations (Minor)
Junior & Senior Drop In Hours:
M: 11:00am – 12:00pm
T, W: 11:30am – 12:30pm
F: 11:00am – 12:00pm